How You Can Make Living Rooms Attractive And Comfortable
Furniture is an important part of a home, and living room furniture is one of the most important because the living room has various purposes attached to it, and there is no set rule or a central furniture item that is universally accepted to be a part of the living room. Based on the aesthetic preferences of an individual, all these changes. The living room can be a place where you relax all day after coming home from a long day of work, and yet it can be very lively with your guests participating in various activities when it is, say, a festive occasion in a home. Designing a living room that can handle such multiple purposes very well is difficult for someone who has no experience in interior designing, and that is why we are here to help today. We will be focusing on comfort and aesthetics in this blog and will discuss how you can achieve it inside the living room by discussing a simple roadmap regarding the same.
One of the hallmarks of living room furniture and sofa design in recent years is that they can be used to perform many things. They are also built to last a long time and endure both environmental and human-induced stressors. The very best of such furniture must be purchased considering your aesthetic preference, budget and space constraints in mind. The Royaloak Super soft Three Seater Sofa Cum Bed in Brown is one example of an amazingly comfortable furniture item that can improve your living room quality. It is a very durable sofa design and has amazing quality cushioning in it. In its sofa form, it can hold three people comfortably at a time. It can transform into a bed in a couple of minutes and is the perfect furniture item if you want to enjoy a good movie with your friends every weekend.
Ways to make your living room comfortable and attractive
From choosing the right wooden sofa design to making sure that the interior design is as attractive as it can be, we will give you all the essential tips to make sure that your living room can look top-notch to both guests and family members.
Only go for high-quality furniture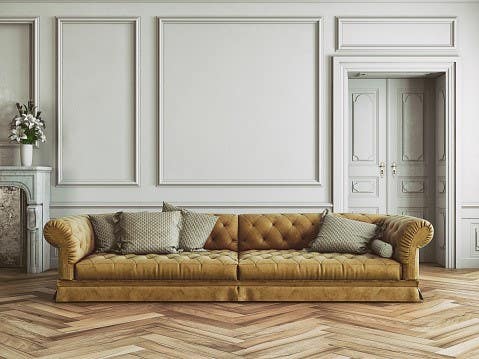 To have a good living room design, one needs to be able to distinguish quality furniture from the ones that don't give that amount of value. Comfort is one of the primary factors that determine quality. Look for washable cushions in your sofa set, rigidity and durability in your entertainment unit designs and storage docks in your centre table designs. You can also purchase recliners if you The sofa is one of the primary living room furniture items, so make sure it makes any person sitting on it experience its comfort immediately.
Go for multifunctionality
Multifunctionality has become one of the most essential furniture properties in the modern era. One of the reasons for this trend is that because of increased real estate prices, furniture must be able to do more in less space. However, durability and productivity standards keep on rising with the years one example of a good living room furniture item that incorporates multifunctional design is the L shape sofa, which utilises the normally vacant corner space for seating purposes. The sofa cum bed design which we discussed earlier can also be a great example of multifunctional living room furniture design.
Go for modern design
There are two types of furniture design if one really thinks about it. One is the more traditional design that is handcrafted, which has more subtle differences and uses mostly natural wood, but this is contrasted with modern design, which uses the latest manufacturing processes and materials. The modern design also does not possess the same aesthetic designs that are commonly found in traditional furniture design, but what it does have is technological advancements that help it to incorporate any new features in it that can be beneficial to you as a homeowner. The L shape sofa design which we discussed earlier is one example of modern furniture design.
Don't forget aesthetics
There are other aspects that help make the living room furniture shine apart from its multifunctionality, modern design or comfort for that matter. The way your living room furniture looks is also very important. You can select aesthetic textures that can look attractive on your wooden sofa. You can mix and match the colour of the recliners and sofas with your wallpaper. You can hang wall art to increase the beauty of your living room. It is also important to remember that free space can increase the aesthetics of the room in its own way. We cannot help you much here because aesthetics is mostly subjective, and decor items and the like are too many to sort through. However, if you put a bit of effort, you can easily apply the aesthetic design to your living room.
Conclusion
Now that you know what kind of furniture and interior design practices can make your living rooms comfortable and attractive, we hope you incorporate them into your house. If you intend to purchase any new furniture for your home, make sure you select a reputed store where customers recommend buying. RoyalOak is one such Indian furniture store that sells a diverse range of products and is also very popular among the public. Living room, bedroom, dining room furniture, as well as related decor accessories, are available in our store. We also have a selection of patio and outdoor furnishings. Our furniture is divided into a variety of collections. This is why American, European, Middle Eastern, East Asian, and Indian furniture can be purchased from our store. As we have a vast selection of sofa sets to choose from that will give you all the essential comfort, you can be sure that you get the best value for the sofa set price you provide us.