How to Select Between Different Types of Bedroom Styles
Apart from satisfying essential functions, furniture has an aesthetic component associated with it. In all furniture, bedroom furniture holds a special place simply because we spend a lot of our life in that room. Aesthetics is important because there is scientific evidence that it makes people comfortable. And when it comes to comfort, what place is more important than a bedroom?
In this blog, we shall explore how you can select between different bedroom arrangements or styles.
You must always expect furniture to possess both functionality and aesthetics in modern days. We shall give you an example of a good furniture item that possesses both. If you have a fairly large bedroom, the Royaloak Darius king size engineered wood bed with storage can be the perfect choice for you. It has a storage space where you can store clothes and it is made of extremely durable engineered wood. The wood has an attractive texture on it and has an additional laminate finish which protects it from environmental factors like moisture. Now we will discuss how to make your bedroom aesthetic after you have purchased furniture like the one we discussed here.
Visit our website www.royaloakindia.com today for latest designs of beds with a variety of size and storage.
Create the best aesthetic for your bedroom
There are many bedroom styles that are popular in the market. Traditional aesthetic, contemporary and modern urban aesthetics are one of the more common ones. Whichever ones you choose to go with for your double bed, you must consider all the following factors.
How much space do you have in the room?
The first thing you need to do before choosing the aesthetic design is to check for space requirements you have in your home. This includes noting down the length and breadth of the room as well as the number of people in the family. Important to note is the phenomenon of having an optimal combination of free space and furniture in their bedroom.
Visit our website www.royaloakindia.com today for latest designs of bedroom furniture with dimensions mentioned to give you a clear idea of the space you might need.
Do you need entertainment units in the bedroom?
Some bedroom arrangements can include an entertainment unit inside the room. If you are going for such arrangements, make sure you have extra seating available in your bedroom. If you have a large bed like the modern king size bed, this may not be mandatory. Some entertainment units have storage spaces within them and provide extra value if you plan to install them along with your wooden bed. If you don't want entertainment units installed in the bedroom, you can use the same space for something else instead.
Arrange furniture in an attractive manner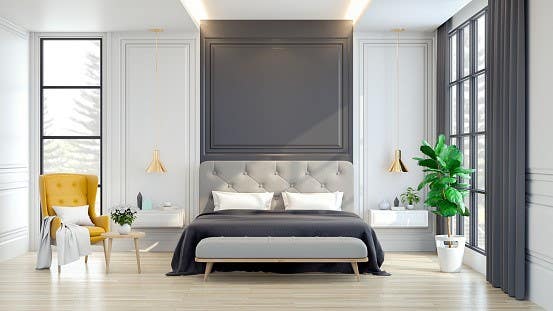 The arrangement is of supreme important when it comes to aesthetics in any room. You must arrange the furniture in such a manner that it showcases the clout in every furniture piece. Traditional aesthetic arrangements demand a high degree of symmetry with everything coming in pairs but new designs can showcase their uniqueness by not following the older styles. Asymmetry in modern designs is immediately noticed because of human predispositions. However, if you have a certain statement item that you want to highlight, this is certainly the best way.
Visit our website www.royaloakindia.com today for latest designs of statement furniture that make your home look like a gallery.
Make good use of light sources
Light is an important factor in making something aesthetically pleasing specially so in the case of a bedroom. Blue light, in particular, reduces the amount of drowsiness one feels and red light is said to help achieve better sleep. Apart from such artificial light sources, natural light can help your single bed look more appealing. However, enough scattering must occur in the bedroom for best effects.
Another thing to keep in mind about light in bedroom is that mattress will be affected by it. While newer memory foam mattresses fare well against direct sunlight, it is still not advisable to let intense sunlight fall on most mattresses.
Visit our website www.royaloakindia.com today for latest designs of furniture and mattresses that makes a bold style declaration.
Get the right decor items
Different bedroom styles need different types of decor items and there are too many decor items in existence, so we will not be attempting to explain all of them. We can, however, certainly direct you to the right ones. The colours of the wall must match the furniture well. If you have an asymmetric bedroom style, you can experiment more.
Everything must reflect the aesthetic of the master bed. For instance, if it has lots of textures in its upholstery, the wardrobes and nightstands must reflect it. Not to mention keeping lots of decor items with kids beds can be attractive to them.
Conclusion
Now that you know how to choose between the many popular bedroom arrangements, you can go and do that in your home.RoyalOak is No. 1 furniture retailer in India which boasts of widest range of products at unbeatable prices. We propose value for money products to match your taste and elevate your lifestyle. We also offer manufacturing defect warranties for up to a year on most of our items.We offer unique designs from all across the globe through our 7 country collection. The very best of furniture from America, Italy, German, Vietnam, Turkey, Malaysia and India composes our collections.
Visit our website www.royaoakindia.com or any one of our +125 stores near you for international furniture at unbeatable price