How To Redecorate Your Dining Room For Fall
Fall is here and it's time for a home makeover. The weather is getting chilly and the leaves start to turn brown. This is the time for get-togethers and house parties. So you must be feeling a need to give a refresh to the most important space of your house.

Yes, we are talking about the dining room. The place where everyone unites to take delight in the comfort of food. This is the warmest and most happening space in the house and it deserves a makeover at this special time of the year.
⦁ New placemats and napkins
You can change the look of your dining table with new placemats and napkins. Choose a color that matches the season, such as rust or yellow. Buy matching napkins to add a pop of color and bring some interest to your tabletop.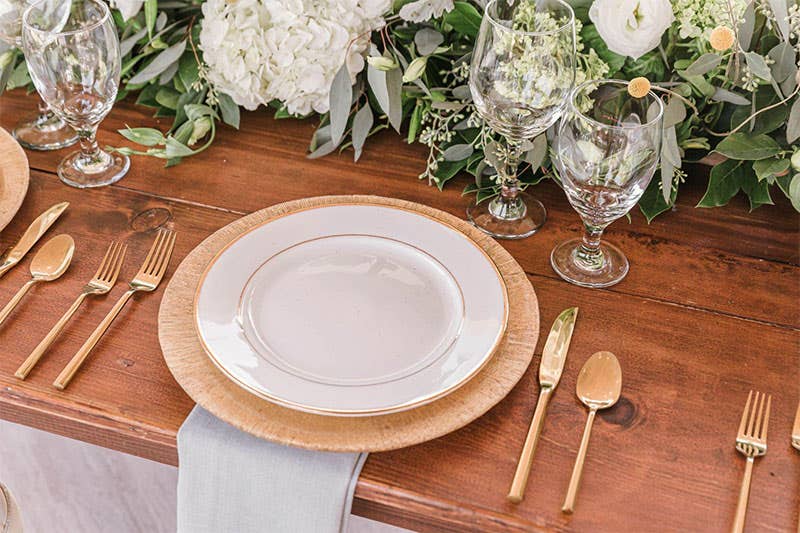 ⦁ Matching chairs or a mix of styles
One of the easiest ways to add some interest to your dining room is to mix up the styles of chairs. If you have several in one room, try using a variety of colors and textures: bright reds and oranges; softer yellow or gold tones; deep browns, black, grey, and white. Mixing up armchairs with side chairs adds visual interest too. You could also use a mix of modern and traditional styles.
For example, consider pairing sleek leather dining chairs with wooden ones in a contrasting finish such as walnut or oak. Or add an eclectic twist by combining industrial-style metal chairs with vintage wooden ones for an old meets new look that's sure to impress!
⦁ Add a centerpiece
The centerpiece is an essential part of any dining room, and it can help to define the theme of your space. You can take inspiration from nature with a leafy arrangement or use flowers, plants, and ornaments to create a centerpiece that matches the season.Place this in the middle of your table—but make sure to keep it simple! If you're going for a cozy feel, consider a few candles instead; if you want something more traditional, go for flowers like chrysanthemums or magnolias. Remember: too big is definitely worse than too small here!

⦁

Change out the rugs or curtains
Change out the rugs or curtains. Curtains can be changed out for a new look. The same goes for rugs. If you want to change your dining room's color scheme, try changing these items out to keep it fresh and interesting. For example, if you have a dark curtain that is obscuring the carpet underneath it, consider swapping those two out. Or if your rug has gotten dirty or stained over time and makes your whole room feel dingy, this could also be an easy fix!
⦁ Add candles and holders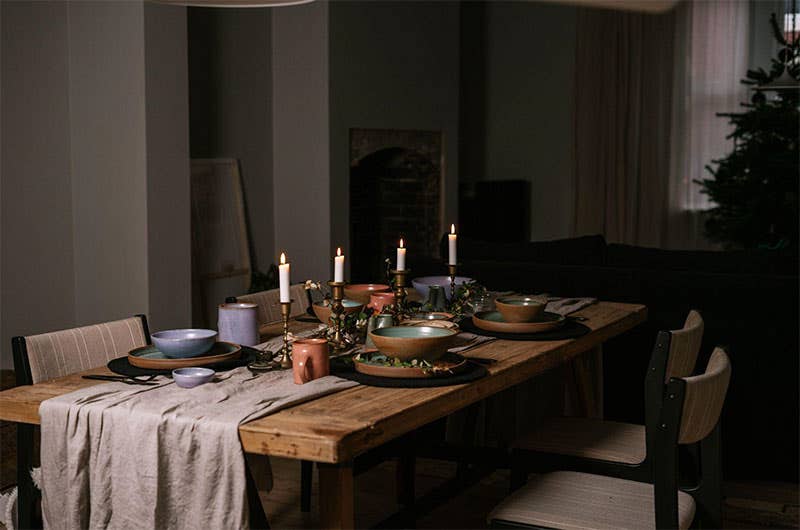 Candles are a must-have for fall decorating. But don't just add any old candle holder to your dining room! Instead, use a variety of holders that fit in with the theme of your room. For example, if you're going for an apple theme, why not use apples as candle holders? You can also use pumpkin or acorn shapes to hold your candles—both are popular fall decorations.
Another fun way to add some whimsy to your dining room is by using jar lids or mason jars as candle holders. These things can be found at thrift stores and flea markets for almost nothing, so get creative with what you have lying around!

⦁ Update your table linens and runners
Tablecloths and runners are a great way to add texture and color to your dining room. They can also help tie together all of your other fall decor elements in one go. Keep in mind that table cloths and runners that match the rest of your decor will make the most impact, so if you have an autumnal theme going on, choose a runner with leaves or pumpkins on it!
If you're looking for some additional inspiration for updating your dining room, here are some ideas:
⦁ Try buying new chairs or rearranging furniture so that it looks different from last year (and therefore feels new). For example, adding sconces over the table might help create an intimate atmosphere—or try moving the chairs around so everyone can see each other better!
⦁ Replace old light fixtures with newer ones that match both style-wise as well as function-wise—for example with dimmer switches that allow for adjusting brightness levels according to your need.

⦁ Revisit your lighting strategy
If you're looking for a way to set the mood, dimmers are your best bet. Invest in one at home and be sure to use it! You'll want to switch off the overhead light in favor of table lamps or floor lamps if you don't have many windows in your dining room that allow natural light through. A chandelier is another great choice as well—it will provide both brightness and ambient lighting for an overall cozy feeling.
If possible, add more sources of natural light through windows (if you haven't already). There's nothing like soft sunlight streaming into your home on a crisp fall day!
⦁ Go for versatile seating solutions
Mixing and matching chairs: The possibilities are endless with this one. You can go for a traditional dining room set with four matching chairs, or mix and match different styles of chairs to create a more eclectic look.
If space is tight, bar stools are a fantastic option because they take up less room than traditional chairs—and are even more versatile since they can easily be moved around for serving or setting up additional tables for parties or buffets!
Explore the best dining room tables with Royaloak. You can explore a variety of 6-seater dining tables as well as 4-seater dining table options. Discover furniture styles from around the world for the best seating solutions for your dining space.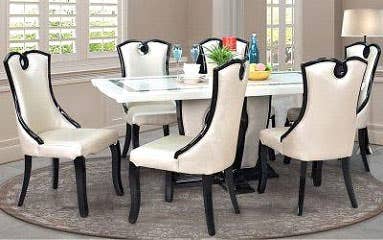 It's fun to redecorate your dining room every season!
Dining rooms are an excellent place to show off your personality and style, especially when you know how to redecorate them for the season. It's also a great way to express who you are as a person, which is why we want to help you get started on that journey.
With fall just around the corner, here are some tips for decorating your dining room in this new season. Use some fall-colored flowers or fake ones if it's too cold outside! They can add brightness and color to any space.
You don't need to spend a lot of money on new furniture, either—just use what you already have and add some seasonal touches. It's amazing how much different a room can look with just some simple seasonal changes. So go ahead, give it a try!