Excellent Small Kitchen Space-Saving Furniture & Tips
Nowadays, as more people are opting for small apartments, the kitchen area has become restricted and therefore homeowners have to manage within the limited space. A number of method can be used to work your way around size limitations so as to maximize the space. The small space of the kitchen becomes a matter when it comes to accommodating different kinds of furniture.
However, with the modern furniture designs, it has become easier to accommodate needs of kitchen. This article will give you a complete understanding of the different ways through which furniture can be space-efficient and render more functionality. We will outline a few tips for creating a smart design for your small kitchen.
Built-in Kitchen Storage Unit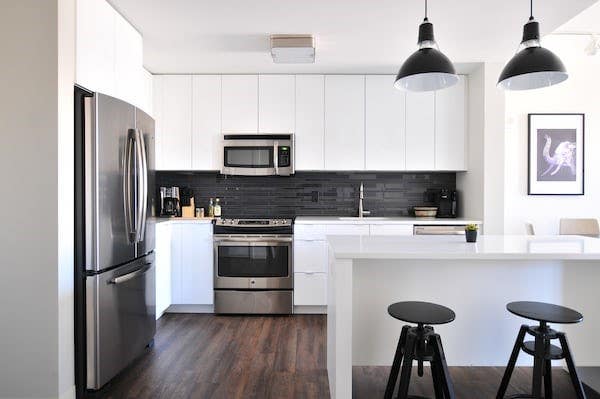 One should never underestimate the power of kitchen cabinets as they are able to store different items as well as accessories. A small kitchen design can accommodate efficient and effective cabinets. The built-in storage options enable homeowners to store kitchen utensils, crockery units and accessories. For instance, the pantry shelves that are mounted on the wall with cabinets can store different materials and leave enough space for the floor. The cabinets having drawers can slide in the middle and enables maximizing the ultimate storage space.
The Additional Space By Installing A Built In Wine Rack

The kitchen cabinets are a major source of storage options that have enough space for kitchen space. The ample storage solution of the kitchen cupboard is one of the best things that comprise an integrated rack rendering complete countertop space for different purposes. The integrated rack design enables efficient storage space where it frees up ample options for other storage purposes. The rack can be utilized as wine racks that help to prevent spilling wine and also keep them clean.
Some kitchen space comes with a chest of drawers and pulls out drawers. The drawers enable flexible access to different accessories. The tall cabinet space can be easily added to the small kitchen design for vertical storage space for accessories.
Increase Counter Space With Built-in Storage Space
The countertops of the kitchen space are an important functional area. When you have a small apartment space, then you should always keep in mind that the built-in storage space of the kitchen is the ideal area where you can adjust every kitchen belongings. Ensure that your small modular kitchen has packed up features that comprises of beneficial features and storage solutions.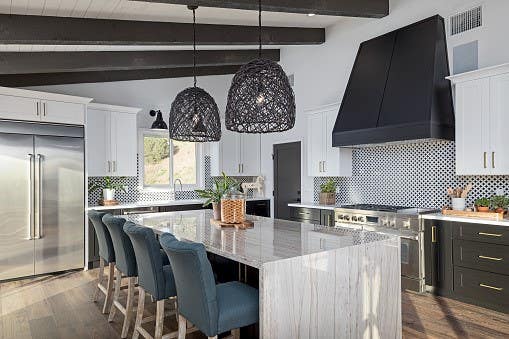 The built-in sinks add additional space to the kitchen counter. At times when there is limited space you might require a custom sitting area. If your kitchen has some indoor window then the natural light will enter the kitchen room. In this case, a glass sink will reflect the natural light entering the room and it will brighten up instantly. At the time of planning a functional cabinet design, you can ensure that the cabinets are closely packed towards each other as utilization of space has become the biggest factor
Many such instances include pull-out baskets and shelves which are a great way to add space. These shelves are extremely beneficial for adjusting microwaves and other electric appliances. It helps maximize the usable storage space in your small interior design kitchen. The built-in drawers and cabinets are generally quite useful for storing kitchenware and cookware.
Using Vertical Storage Solutions To Enlarge Kitchen Space
Several kitchens have different unused wall space which can be put to terms for storing more dishes and cookware.
The modern kitchen is designed in a way that will make sure that one can easily move inside the kitchen to prepare food. Do you have a very tall island or cabinet? Then you can take the benefit of the extra height for storing the additional item in your kitchen.
In case you have a window in your kitchen, you can consider installing a few cabinets to its side for storing several things. For adding a vertical storage system in your design, you can add a vertical kitchen cabinet design for making effective usage of functional kitchen designs.
Visit our website www.royaloakindia.com for our latest and contemporary designs of kitchen furniture.
Switch To The No Door Kitchen
The no-door policy is a simple design hack and this switch to a no-door policy will widen the kitchen. It serves as a space where one can move freely around the kitchen and access the island and for cooking.
Visit our website www.royaloakindia.com for our latest and contemporary designs of kitchen furniture.
Conclusion
Are you thinking about setting up your small kitchen space? RoyalOak is No. 1 furniture retailer in India which boasts of widest range of products at unbeatable prices. We propose value for money products to match your taste and elevate your lifestyle. We also offer manufacturing defect warranties for up to a year on most of our items.We offer unique designs from all across the globe through our 7 country collection. The very best of furniture from America, Italy, German, Vietnam, Turkey, Malaysia and India composes our collections.
Visit our website www.royaolakindia.com or any one of our +125 stores near you for international furniture at unbeatable price.