COMFORTABLE WOODEN DINING CHAIRS: WHAT TO LOOK FOR?
---
We all love to host dinner parties. It's a great excuse to get together with friends and enjoy delicious food, good conversation, and maybe even some drinks.
However, if you're going to be spending hours on your feet as you move around the kitchen and serve everyone their meals, it's important that you have a comfy dining chair in your dining room.
There's no point in having a beautiful table if your guests are sitting on hard wooden chairs that make their backs sore!
When shopping for furniture, look for ones that are wide enough for support but narrow enough so they don't take up too much space in the room.
Additionally, soft padding is crucial for comfort. So, in this blog post, we will be covering all the vital points to remember while shopping for wooden dining chairs.
CONTEMPORARY STYLE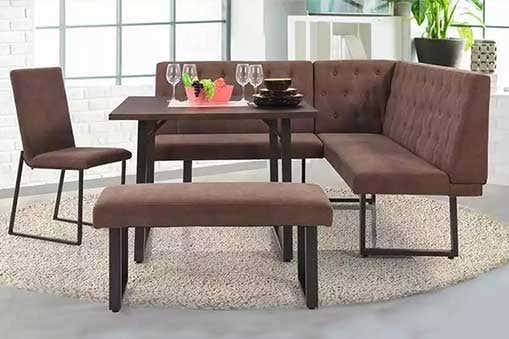 Knock! Knock! All the Genz people, it's you on the top.
We all know, nowadays, everyone wants contemporary designs to suit their taste. Contemporary dining chairs have a modern, sleek, contemporary design.
They are stylish and not traditional, so they're perfect for a home that doesn't want to appear old-fashioned or outdated.
You can use them in your living room in your home without feeling like you're stuck with an outdated design!
THICKER SEAT CUSHION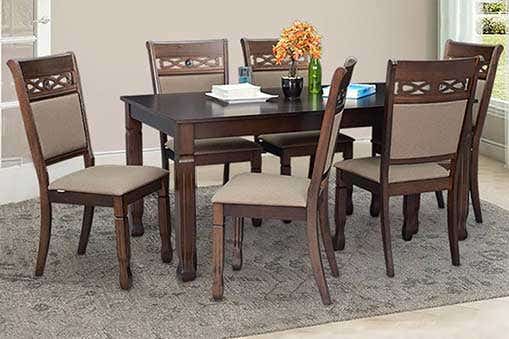 If you're looking for comfortable dining chairs, the thickness of your seat cushions is one key factor to consider. There are four main reasons why thicker seat cushions are better:
● They're more comfortable
● They're more durable
● They offer more support and stability
● They make eating at the table a luxurious experience
DENSE FOAM PADDING
When it comes to padding, you want the kind that's firm and dense. It's more comfortable, durable, and breathable.
The best kinds of foams are polyurethane or polyester foam as they're the most durable. There are many types of foam out there, but these two types tend to be the most versatile and cost-effective when it comes to durability.
SOLID WOODEN LEGS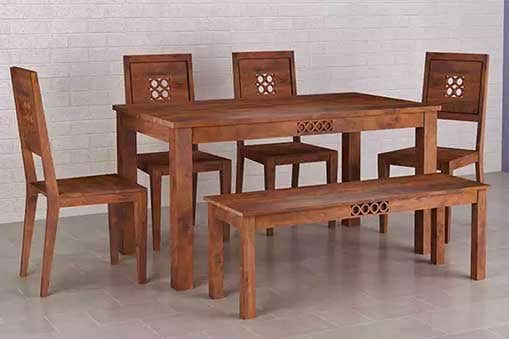 All the sustainability lovers, we got you covered.
● Wood legs are your best bet for a sturdy, long-lasting chair.
● You can find solid wooden legs made from a variety of different types of wood, including oak and maple. These materials last a long time and are very sturdy.
● That being said, wooden legs can be stained or painted to match any decor style you might have in your room or house. They also look great when left natural.
STRONG OAK WOOD CONSTRUCTION
Oak is a hard, durable wood that's been used for centuries to make furniture. It's also a popular choice when it comes to dining room furniture because it looks great, has a smooth finish, and can withstand the wear and tear of daily use. The following are some things you should know about oak:
● Oak is a strong, durable wood that can withstand daily use in your home while retaining its aesthetic appeal.
● This makes it an excellent option if you plan on having your new chairs around for years to come.
● Oak has long been used in high-end cabinetry and other types of furniture due to its attractive appearance and durability.
● It comes in various shades of brown ranging from light brown to dark chocolate brown.
HIGH BACKREST FOR ADDITIONAL SUPPORT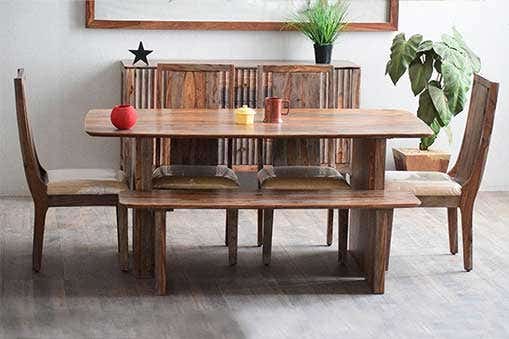 The backrest adds support to your body and can help you sit in an upright position.
● The higher the backrest is, the more support it provides. You don't want to choose a chair with a back that's too tall or thick; otherwise, you'll be leaning against it all evening.
● A good height is where your neck meets your shoulder when you're sitting up straight—about 20 inches (50 cm) from the ground should do it!
● Backrests are curved to fit around people of different sizes and shapes. If they're not curved enough to suit your body type, they could cause discomfort if they dig into your shoulders as a result of poor ergonomics.
GET COMFORT AND STYLE WITH ROYALOAK

Having great furniture is one way of making that kind of statement.
Wood is one of the best materials for home furniture as it is a renewable source that ages gracefully and lasts for years with proper care and use. Since wood is natural, its grain pattern and texture may be different from lot to lot. Rest assured that this makes each individual piece unique.
Browse the best quality wooden dining chairs by Royaloak and elevate the design of your home to the next level. Choose among a wide range of designs, styles, and colors made from 100% natural hardwood.