6 Types of Bedrooms Based on Your Personality
---
Your bedroom is a reflection of your personality. It should be a place where you can relax and be yourself. Every element of your bedroom should make you feel at ease with yourself. After all, the bedroom is where you spent the most amount of your personal time.
We have made a list of 6 personality types and how each of them can reflect their style in the bedroom. Each bedroom is unique in itself and composes of different elements that can bring comfort to your life. Explore them all and find out which bedroom style best represents your personality. We will also give you the best recommendation on how you can bring these bedroom decors into life with a few easy steps.
The Bohemian Bedroom: For the independent type who loves traveling
The bedroom should reflect the personality of the inhabitant and for the free-spirited individual, this will be a space that captures the spirit of wanderlust and adventure. To create a bohemian bedroom, start with a blank canvas – white walls are the perfect backdrop to build on.
Bohemian style is all about mixing and matching different patterns, textures, and colors, so have fun with your bedding. Go for wooden bedroom furniture to add a charming rustic appeal to the space. Layer different colorful throws and pillows to create a cozy and inviting space. Global-inspired artwork and tapestries will add visual interest to your walls, and placing a few potted plants around the room will give it a fresh and natural feel.
Finally, no bohemian bedroom would be complete without some personal mementos from your travels. Display photos, postcards, and souvenirs from your adventures around the room to give it.
The Glamorous Bedroom: For the social type who loves having parties
This is the kind of bedroom that you've always dreamed of. It's big, beautiful, and has everything you need to throw an amazing party.
This room is for the social type of person who loves having parties. It's got a big bed for you and your friends to lounge on, a huge TV for movie nights, and a sound system to get the party started. Plus, there's plenty of storage for all your clothes and accessories. You can add bedroom furniture with storage and save space for seating. Add rugs and lots of pillows to enhance the vibe of the space. Add neon lights to give a glamorous appeal to the space. Everything in this room is perfect for someone who loves to entertain.
The Traditional Bedroom: For the self-assured type who loves nature
A bedroom should be a refuge from the outside world – a place where you can relax and recharge. If you identify with the self-assured type who loves nature, then a traditional bedroom design may be the perfect way to create your own personal sanctuary.
Traditional bedrooms are often inspired by 18th and 19th-century designs, and they typically feature rich wood tones, plush fabrics, and elegant details. If you're looking to create a traditional bedroom, here are a few tips to get you started.
First, choose a color palette that evokes a sense of calm and relaxation. Soft hues like blue, green, and lavender are perfect for a traditional bedroom. You can also go for a more dramatic look with jewel-toned fabrics and furnishings.
Next, select furniture that is both stylish and functional. Wooden bedroom furniture is the best, that is elegant as well as long-lasting. Add indoor plants and make sure that there are good windows to let the light in.
The Eclectic Bedroom: For the creative type who loves creating art
For the creative type, a bedroom is also a place of inspiration, a space where they can let their imagination run wild and create something truly unique.
If you're the creative type who loves making art, then you'll love an eclectic bedroom design. This space is full of vibrant colors and interesting patterns, and it's the perfect place to get those creative juices flowing. Go for a metallic bed or wooden bed, to begin with, a sense of structure. Then you can add wall art installations, tapestries, flowy fabrics, and even ornamental artwork. Utilize the wall space to exhibit cultural relics that inspire you and paintings that you create. Follow a color palette for a space that is soothing and harmonious.
The Zen Bedroom: For the spiritual type who is all about meditating
If you're the type of person who is all about meditation and finding inner peace, then you might want to create a Zen bedroom. This type of bedroom is designed to be a calming and relaxing space where you can go to unwind and clear your mind.
There are a few key elements that you'll need to create a Zen bedroom. First, you'll need to choose calming and soothing colors for your walls and bedding. You'll also need to select furniture that is simple and uncluttered. And finally, you'll want to add some personal touches that represent your own journey to inner peace.
With a little bit of effort, you can transform your bedroom into a tranquil oasis that you can retreat to whenever you need to clear your mind and relax.
The Minimalist Bedroom: For the type who loves organization
For the type of person who loves good organization, a minimalist bedroom is a perfect way to achieve a sense of calm and serenity. A minimalist bedroom is free of clutter and unnecessary furniture, which allows you to focus on the things that matter most to you.
A minimalist bedroom typically includes a bed, a nightstand, and a dresser. However, you can also add other items such as a desk, a chair, or a rug to your room if you feel like it. The key to a successful minimalist bedroom is to only add items that you absolutely need and to keep the overall design of the room clean and simple.
Bring life to your dream bedroom with Royaloak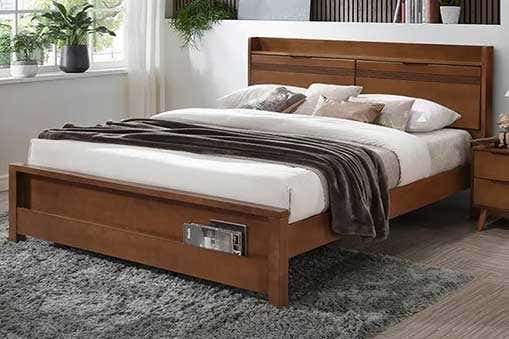 Making a dream bedroom is about more than just picking out the perfect furniture. It's about creating a space that reflects your personal style and brings your vision to life. With Royaloak Bedroom furniture, you can do just that. We offer a wide range of bedroom furniture, from beds and dressers to nightstands and chests, so you can create the bedroom of your dreams.
But we don't just stop there. We also offer a wide range of home décor and accessories to help you complete your vision. From rugs and lamps to wall art and mirrors, we have everything you need to make your dream bedroom a reality.
So what are you waiting for? Start browsing our selection of bedroom furniture and home décor today and bring your dream bedroom to life.